In the old abandoned orchards of Southern Humboldt, pears are a distant second to apples in terms of surviving trees. This reflects the pear's less popular status as well as a somewhat greater susceptibility to disease compared to the apple. Nonetheless, there are scores of century-old pear trees still producing in Humboldt County orchards. Our region is very well-disposed to pear varieties, and even the notoriously temperamental Comice makes fine fruit here. In regions where fireblight is endemic, we suggest that customers do some research on resistant varieties. Our catalog can help with descriptions and other information.
Rootstocks
We graft our trees on domestic pear seedling for standards requiring 20 foot spacing, and OHxF 333 clonal rootstock for semi-dwarf trees (15 foot spacing). Both pear rootstocks tolerate heavier, wetter soils than most other kinds of fruit.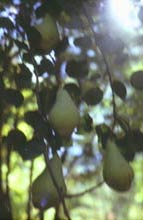 Vicar of Winkfield Pears - Known to local old-timers as the "Viker", this venerable variety was brought from France to England in the eighteenth century. This is a handsome, aromatic keeping pear, highly esteemed for cooking....
PEAR VARIETIES
Bartlett *
Beierschmitt *
Beurre Superfin
Clairgeau
Clapp's Favorite
Colette
Comice
Conference
Flemish Beauty
* indicates some resistance to fireblight

Harrow Delight *
Harvest Queen *
June Sugar
Magness *
Seckel
Vicar of Winkfield (Viker)
Warren *
Winter Bartlett *
While some varieties may be self-fertile under optimum conditions, cross- pollination (two or more varieties) is usually essential. Bartlett and Seckel, however, do not benefit each other.
Warren appears closely related to Magness - and may be identical. However, some growers believe it to be more fireblight resistant and regular in bearing.....
Winter Bartlett is not related to Bartlett; it is obviously a "sand pear" hybrid in the same class as Kieffer.
* * * * *
" Soils seem to have a profound influence on the flavor and texture of pears. In uncongenial soils the fruit are often so sour or astringent, dry or gritty, that the product is poor in quality; whereas the pears of the same variety in a soil to which it is suited are choicely good. A few varieties such as Bartlett. Clapp's Favorite, and Seckel grow well and produce fine fruit in a great diversity of soils, but most sorts do so much better in one soil than in another that it becomes a matter of prime importance in pear growing to discover the particular adaptions of the varieties to be planted. To discover an ideal soil for a variety is about the highest desideratum in pear growing."
- U. P. Hedrick, Pears of New York 1921