As a fruit breeder, Albert Etter was fascinated by "primitive" germplasm. He especially loved crabapples and saw in them a potential source of new qualities to introduce into more conventional types. His first important apple selection, Etter's Gold, was a full-sized fruit with a crabapple parent (Transcendent Crab). It is not insignificant that three other original Etter varieties (Wickson, Humboldt, Crimson Gold) are small apples that strongly reflect their crab heritage.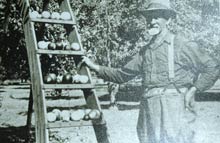 Albert Etter and his diverse offspring
Our visits to the Etter orchard soon revealed lots of other "little apples" of obvious crab hybridity. Unlike typical crabapples, the Etter hybrids were not astingent or crabby culinary fruits. Many combined high sugar with high acid and a pleasant hint of tannin; this we feel constitutes the essence of an intensely flavored dessert variety. Most of them were also distinguished from ordinary crabs by their relatively late ripening seasons.
Over the years, we have come to regard the Etter crab hybrids as a distinctive class of small dessert/cider apples that we call the Sweetmeat Crab ™ Hybrids. In addition to the oriignal three, we have selected seven "new" varieties that we have named and now offer through Greenmantle Nursery. Each represents a unique variation on the same theme: intense, robust flavor in a small package. They are like the wild strawberries of the apple world. We commend them to connoisseurs, serious cider makers, and discriminating children. Kids do have a natural affinity for these Sweetmeat Crabs ™ which they regard as "fairy apples".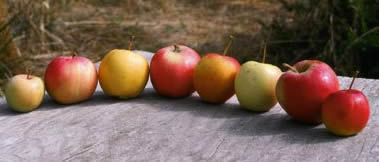 All in the family ..... Muscat de Venus™, Vixen™, Atalanta™, Amberoso™, Eden™, Jade™, Crimson Gold, and Wickson
Descriptions of the Sweetmeat Crab™ Hybrids (in ripening order)
EDEN CRAB ™ (CV. Etter 30-32) This is a great little apple that almost got lost in the shuffle. Etter named it "Jumbo Transcendent" after its seed parent and gave it to California Nursery Co. to be patented as "Humboldt". Somehow this never happened, and the variety was forgotten ...... consigned to a single branch on a broken-down test tree. Fortunately, both its blossoms and fruit stand out in a crowd.
Ripening in September, Eden™ looks a lot like Transcendent (red over cream) only three times bigger ( over 2" in diameter). The tree is a vigorous, spreading grower that produces regularly and profusely. Its masses of large pale pink blossoms make it a beautiful sight in Spring. The fruit it refreshingly aromatic and succulent, and the juice is "vintage" without blending.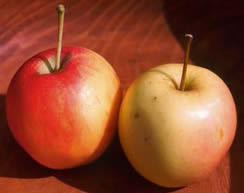 Tale of two "Humboldts": Eden Crab™ on left and the patented Humboldt
ATALANTA™ (CV. Etter 22-17) This little golden apple combines robust and delicate elements to provide a distinctive and pleasurable eating experience. The impeccable texture of the juicy flesh enhances the lively flavor that displays a hint of citrus. Atalanta™ ripens in October; because of its tender skin it should be handled with finesse.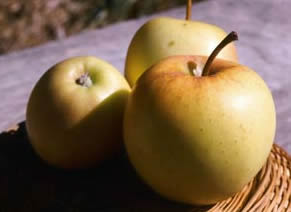 Atalanta™
AMBEROSO ™ (CV. Etter 27-10) Here we have one of the most unusual apples we've ever grown or eaten. The fruit is relatively large (2.5" in diameter), lop-sided and ribbed with a broad open calyx cavity. The skin is almost completely blushed with light red and this is covered with bloom worthy of a Damson plum. The flesh has a pronounced amber tinge and is remarkably crisp and juicy, with pineapple aromatic overtones. With its distinctive spreading growth habit and dense spur nodes, the tree makes a picturesque landmark in the orchard. Fruit ripens in late October to early November.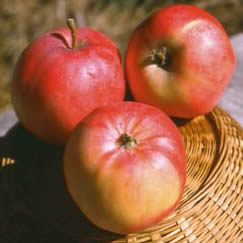 Amberoso™
MUSCAT DE VENUS ™ (CV. Etter 31-2) While we have no information on its actual parentage, we are sometimes tempted to conclude that Etter crossed an apple with a grape to produce this variety. A small fruit (about the size and shape of Wickson), Muscat de Venus ™ has a thin pale skin splashed with pink and violet coloring. The grape-like effect is enhanced by a delicate bloom. While the texture is crisp, the flavor is intensely vinous and suggestive of muscat grapes. This is an extraordinary choice for dessert or cider. There is more pleasure in a single little Muscat de Venus™ than a bushel of most big apple varieties. Ripens in late October and early November.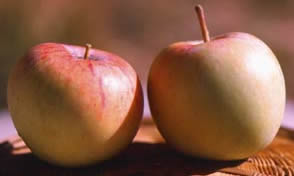 Muscat de Venus™
VIXEN ™ (CV. Etter 34-3) More than one person has expressed to us their fantasy: "If only Etter had made a variety that looks and tastes like Wickson - but was the size of a conventional apple...." This is probably too much to ask for; intense flavor seems linked to compact size ( the wild stawberry paradox). Nevertheless, we did discover an apple that approached these parameters. Not quite as large as an ordinary apple, Vixen ™ is still several times the size of Wickson. And while it doesn't have the unprecedented sugar content of Wickson, it does have enough sweetness to render it an excellent eating apple. Vixen™ ripens several weeks later than its namesake (i.e. early November ) and stands up better to weather.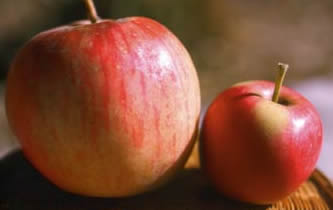 Little Wickson and its foxy big sister Vixen™
DAPPLE ™ (CV. Etter 24-18) This variety earned its name from its outlandish appearance: Haloed purplish spots over a yellow background. Horseowners will recognize the reference. A small fruit in the same range as Wickson and Muscat de Venus™, Dapple ™ is not as strongly flavored as some of the other Sweetmeat Crab™ Hybrids. It is nonetheless very pleasant and refreshing; it should appeal to a broad range of palates. Ripens in early November.

JADE ™ (CV. Etter 26-5) We first encountered this apple on a Thanksgiving Day pilgrimage to the Etter orchard; the deep green fruits made a conspicuous sight in an otherwise bleak landscape. They hang on the tree well into Winter, increasing in sweetness until ruined by our heavy rains. We start picking them in early November, but they don'treach their peak of flavor until the end of the month. Not as sweet as the other crab hybrids, Jade™'s virtue lies in its clean brisk flavor with a note of citrus, and very crisp breaking flesh . It's a treat after holiday meals and also makes a fine cider, straight or blended.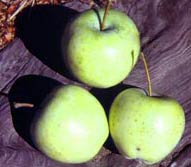 Jade™: The last jewel of the autumn orchard
RESTRICTIONS TO PROPAGATION & COMMERCIAL USE
Sweetmeat Crab™, Eden™, Atalanta™, Amberoso™, Muscat de Venus™, Vixen™, Dapple™. and Jade™ are trademarks of Greenmantle Nursery. These varieties are propagated and sold exclusively by Greenmantle Nursery.
NO UNAUTHORIZED PROPAGATION OR SALE OF TREES.
NO SALE OF FRUIT WITHOUT LICENSE.